Dean Richardson as Freddie Mercury
Over the past few years I have been fortunate enough to perform the music and pay tribute to the greatest entertainer of all time, Freddie Mercury. I've thoroughly enjoyed performing to the most enthusiastic audiences all over the country and overseas. It's been a fantastic journey and long may it continue for many years. Thanks for dropping by and I look forward to seeing you soon, in the meantime please feel free to click on the different tabs below to get more information on my shows.
Dayyo, Dean!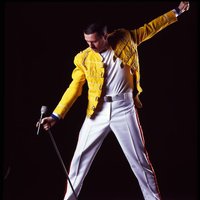 Dean Richardson as Freddie Mercury faithfully recreates the image, voice and flamboyancy of the great man himself. Audiences are always left amazed by the authenticity and intricate detail Dean puts into each and every performance.
From the moment the music begins and the lights pulsate, Dean explodes onto to the stage and from then on, the energy and exuberance never stops flowing. From the stunning vocals to the mannerisms, from the outlandish costumes to the moustache, it's all there to ensure that the audience have the very best experience.
Dean Richardson as Freddie Mercury solo show is available as a fully self contained tribute act and also with full band parts for cruise work and more.
Additionally Dean is available with a full band who he has worked with on every continent both on land and sea. These exceptional musicians have also backed some of the worlds leading stars.
For a more in depth look into Dean's personal journey please check out the profile page.
'Nailed the vocals perfectly.' Robin Duke, Entertainment Editor – Blackpool Gazette
'Dean Richardson IS Freddie Mercury' Bay Radio 96.9fm
'Masterclass' Roy Walker
'Absolutely brilliant' ITV Studios
'Superb, I couldn't ask for anything more' Keith Harris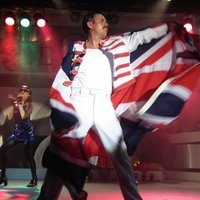 In 2009, Dean was asked by tribute impresario Trevor Chance to audition for his show, Legends. From the initial sound check, Trevor Chance voiced his enthusiasm with Dean's vocals as Freddie Mercury and since then, has enjoyed very successful consecutive summer seasons in Blackpool.

Playing to over 36,000 people in a single season, in excess of 150,000 have been thrilled by the performances of Dean Richardson as Freddie Mercury and the other fantastic cast members at Legends.
In addition to the summer season, Dean also performs with Legends at various locations including numerous shows for their corporate clients up and down the country and abroad. Playing to a packed audience night after night at the famous Blackpool Tower Ballroom in their last season. Additionally Dean performs with the team at Legends in their exclusive Christmas Show to over a thousand enthusiastic audiences members each night throughout Decemeber at the Royal Armouries in Leeds.
Legends featuring the best lookalike and soundalike artistes in the world, Trevor Chances Legends stars a fantastical array of live music performers. Your favourite stars all framed in a fabulous high energy production. Hour after hour of the best selling songs that made these Legends so successful gives the audience a seamlessly magical trip to the greatest music of the last 50 years.
Since Legends began Chance Promotions have only ever featured the very best look, soundalikes in the world. Many artistes have joined the queues of people hoping to emulate their idols on the Legends stage, but only a handful make the grade to become part of this very elite club.
**UPDATE** I am very happy to annouce I will be once again joining this full production show with multiple tribute artistes, dancers and musicians this coming Festive period in '22. From the 2nd December through to New Years Eve Trevor Chance's Legends will once again be appearing at the Royal Armouries in Leeds.
'BREAK FREE - The Greatest Hits of Queen', an outstanding tribute production which perfectly embodies the spirit, appearance and live representation of the all-time legendary British band....Queen!
Featuring Dean Richardson as one of the greatest frontmen of all time, backed by world class musicianship, all fathfully recreating the iconic looks, sounds and familiar guitar solos that are a sure fire way for all Queen fans to be shouting for more!
More details, pictures and promotional video to follow - please check the gig guide for theatres already booked.