Profile
Here you'll find the biography of Dean Richardson as Freddie Mercury.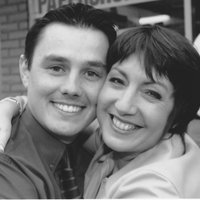 Dean comes from from a musical family, his mother was a headline act in Cumbria during the club years, and her mother before her. With many musicians in the family it was inevitable that one day Dean would also play his part on stage.
He began playing the piano at the age of 7 and also attended the Yamaha School of Electronic Music. During his school years he would perform in local hotels in his hometown of Morecambe to residents, this experience would set him in perfect steed for his transfer to Blackpool's golden mile in later years.
Although talented both musically and vocally Dean originally pursued a 'proper career', and his studies lead him to attain a degree in Accounting and Finance. While studying Dean continued to dip his toes in the 'business' and sang whenever his studies allowed. He appeared at the Summerbreeze fesitval in front of 20,000 people and has supported many acts in his early career including 911, Alexander O'Neil, Leo Sayer, Tony Hadley, Edwin Starr, Rose Royce, Jackie Graham, The Pasedenas to name but a few. He also appeared on MTV's flagship programme 'MTV Select' hosted by Donna Air, after winning their national competition to find new talent.
After graduating Dean worked for a local newspaper group and it was there; after many auditions he was chosen out of over 6000 applicants to be one of five contestants to appear on BBC's Star for a Night hosted by Jane McDonald. This was aired on BBC1 on a Saturday night in their prime time slot in front of 12 million viewers attracting the attention of a host of talent agents including theatre impresario Bill Kenwright.
It was at this point Dean took the decision to follow his dream and jump in with both feet into showbusiness. Now based in Blackpool, Dean was much sought after on the circuit performing all across the coast and beyond. He has been the opening act on the North Pier's summer show, headlined a production at Blackpool's famous Opera House where the likes of Frank Sinatra, Judy Garland and other famous names have tread the boards. Entertained the crowds with Danny La Rue in Blackpools Tower Ballroom and even performed at the Blackpool Christmas Lights switch on.
After teaming up with an already successful Queen tribute band Dean perfected his art over the following months playing in various venues up and down the country. It was at this point the producer of Blackpool's longest running and most successful show – Legends, was to get in touch. Dean has since enjoyed very succesful consecutive summer seasons in it's principal role; firstly at the Central Pier, The Sands Venue and most recently the famous Blackpool Tower Ballroom as well as their famous Christmas party nights at the Royal Armouries in Leeds regularly attracting over 1000 guests per show.
In addition to Legends, Dean enjoys performing at a variety of locations and events here in the UK and also flys to hot spots around the world. He is also a regular and extremely popular tribute act on P&O and Marella cruise liners taking him and his Queen tribute show all over the world enjoying the stage with stars like Alfie Boe, David Essex, Katherine Jenkins and Roy Walker to name a few. In addition Dean is a favourite with Pontins, Away Resorts, Park Resorts, Parkdean Reosrts and TUI exclusive Sensatori resorts.
Most recently Dean appeared on the celebrity version of 'Come Dine With Me', for thier Queen's jubillee special and has performed at many prestigious events inluding Masapolomas Pride Festival in Gran Canaria on the main stage, that regularly attracts 80,000 people!!